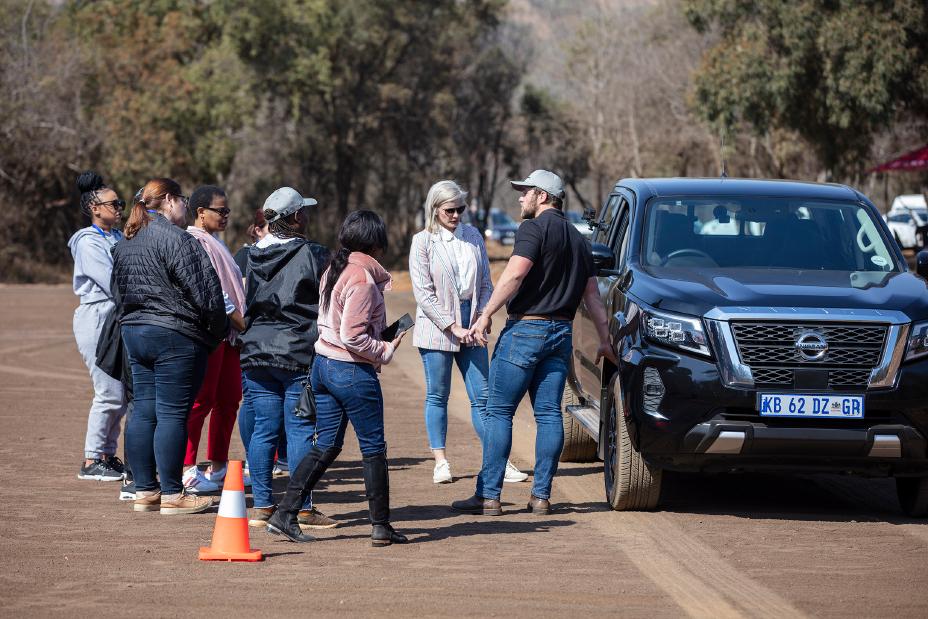 Johannesburg, South Africa – In honour of Women's Month, Nissan South Africa (NSA) hosted a female-empowered immersive driving experience.
As a proponent of diversity, equity, inclusion, and women empowerment in the workplace, NSA held the #NavaraWomen event to celebrate females who are a crucial part of bringing to life the local manufacturing of the award-winning Nissan Navara. NSA took their commitment to these values a step further by empowering the event attendees with off-road, defensive driving and anti-hijacking training sessions.
"With this event, we wanted to empower women with the tools to keep themselves and their families safe while behind the wheel, using our locally-produced Navara. We unpacked a variety of scenarios and ensured that we equipped them with the necessary skills to better deal with these situations." said Tessa Cooke, General Manager: Brand and Customer Experience, Nissan Africa.
Designed in Africa for African roads, the Nissan Navara is packed with Nissan Intelligent Mobility (NIM) features built to ensure the safety of consumers. These features include Intelligent Forward Collision Warning – which monitors vehicles ahead to reduce the risk of multi-car accidents, Intelligent Emergency Braking which activates the brakes to avoid collisions and more.
Held at the ADA Outdoor training centre in Hartbeespoort, the event also served as the launch of the Nissan Adventure Club – a platform designed to empower Nissan customers with knowledge of their Nissan vehicle's features and capabilities by taking it through its paces on the off-road track.
"With the Nissan Adventure Club, customers who buy a Nissan vehicle, will get the opportunity to take part in either a defensive driving or a 4×4 training course. The purpose of this, is to ensure they are empowered with the necessary knowledge of all features, no matter the grade, of their vehicle and enjoy the full value of their investment." said Cooke
Celebrating Nissan women
As a global entity, Nissan has championed enabling women to take on more strategic and senior roles within the company and the automotive industry at large. Seeing an increase in female management globally from 6.7% in 2008 to 13.9% in 2020, owing to its career development support and training provided for women in all regions.
Furthermore, Nissan South Africa has set employment equity targets by 2025, prioritizing the recruitment and empowerment of women at all levels, including women of colour. Among these targets are an increase in female representation at mid- and senior management levels to 25% and a rise in women in top management to 25%.
Women have taken the centre-stage in the execution and management of crucial projects within the company, such as the upgrading of the Rosslyn Manufacturing Plant in Pretoria and the production of the new Nissan Navara locally.
"At Nissan, we know that when women win, we all win – as an automotive industry and as a nation. Therefore, we have been steadfast in our commitment to empowering women within our company and wider industry over the years. Events such as these are important not only in empowering women as drivers through imparting technical driving skills, but also in driving advancement for the next generation of female-leaders in the industry," Wonga Mesatywa, Executive Director Corporate Affairs at Nissan South Africa said.
Beyond the workplace, Nissan vehicles such as the Nissan Navara embrace and embody the lifestyle needs of today's woman. The new Nissan Navara blends style and ultra-functionality, ensuring that whether navigating through tough terrain during life's adventures or travelling between meetings or school-drop offs – it provides all day comfort, safety and driving pleasure.
It is equipped to go anywhere and perform any task – taking premium to new levels.
Source: https://www.nissan.co.za/