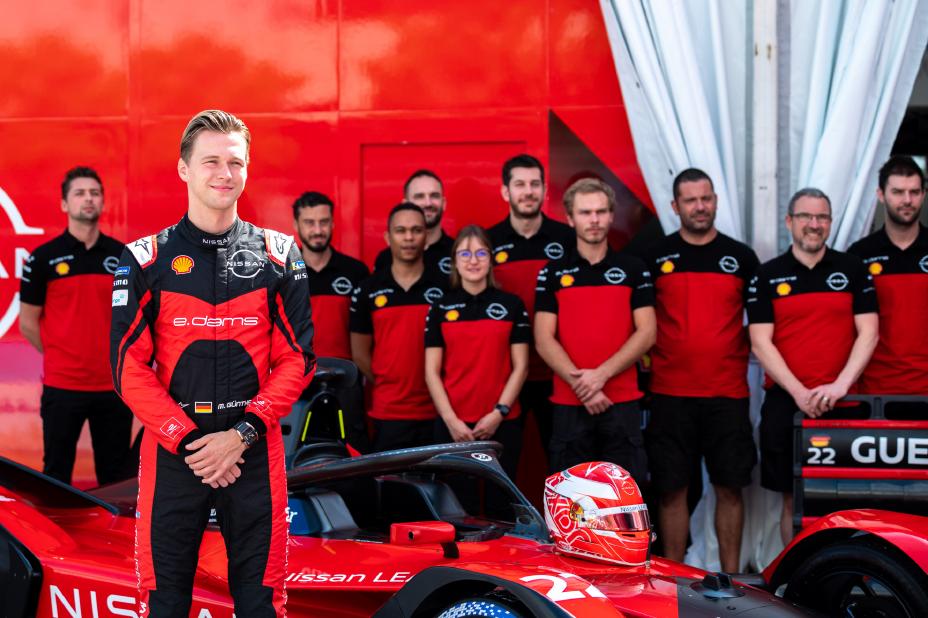 Sébastien Buemi takes P9 in final race of Formula E's Gen2 era
Nissan e.dams ended the final race of the 2021/22 ABB FIA Formula E World Championship with a points finish, with Sébastien Buemi putting in an excellent recovery drive to gain 10 positions and take ninth.
The team came into the first ever Seoul E-Prix weekend off the back of strong performances in London, where both Buemi and Maximilian Günther qualified for the Duels and scored points. The duo both showed solid pace on the brand-new circuit, built in and around the Seoul Olympic Stadium that hosted the 1988 Summer Olympics.
On Saturday, Buemi had promising speed in qualifying, coming close to making the Duels and lining up for the race in 10th place. While the Swiss driver was involved in a multi-car incident in the early stages, Günther drove cleanly to finish just outside the points in 11th.
German racer Günther narrowly missed out on the Duels on Sunday in Formula E's 100th race, ending the session 0.02 seconds away from the top four. After a tough qualifying, Buemi put in an excellent performance to slice through the field, crossing the line ninth.
"This weekend marked the 100th Formula E race and the end of Gen2, and Nissan is very proud to be a part of the series," said Tommaso Volpe, general manager Nissan Formula E and managing director Nissan e.dams Formula E Team. "It's the end of one era, and the beginning of another as the work to prepare for Gen3 is already underway. This weekend the weather was tricky in parts, so we had to be at our best to give the drivers the ideal set-up for the conditions. We're really pleased with Séb's drive today, the strategy was spot on and he did everything right in the car. After a very good qualifying performance, Max was unlucky to pick up damage in the early stages after a positive start, meaning he was unable to finish the race. Now we continue preparing for Season 9 and aim for a more successful campaign."
The weekend marked the end of Formula E's Gen2 era. Nissan e.dams' first race in Formula E coincided with the debut of the Gen2 car in 2018, and the Japanese manufacturer is already committed to continuing in the series throughout the Gen3 era, to the end of Season 12.
Nissan races in this all-electric world championship to bring the excitement and fun of zero-emission electric vehicles to a global audience. As part of its goal to achieve carbon neutrality across its operations and the life cycle of its products by 2050, Nissan intends to electrify every all-new vehicle offering by the early 2030s in key markets. The Japanese automaker aims to bring its expertise in transferring knowledge and technology between the racetrack and road for better electric vehicles for customers.
Driver Quotes
Sébastien Buemi
"I'm happy to end the season with a strong race and some points. Qualifying wasn't ideal but the car felt good in the race, and we were able to drive smoothly and make some overtakes to move up 10 positions. Saturday was a bit frustrating as we had a brilliant qualifying session, coming close to the Duels. Unfortunately, I was involved in the incident early on, and although my car wasn't particularly damaged, we had to receive help from the marshals to get back on track and that meant we couldn't continue. Despite that, I'm pleased with the pace we showed in both qualifying and race and happy to end the Gen2 era in the points."
Maximilian Günther
"Saturday qualifying was tough in the changeable conditions, and we struggled to put a lap together. However, in the race, the car was set up nicely and we had a really positive pace. I made up places early, and kept it clean but we didn't quite have the speed in the second half as the track dried, meaning we just missed the points. Today we had a fantastic qualifying, we ended up being really close to progressing to the Duels, which is a result we should be proud of. I went to the inside at the start and made up a position and decided to continue being aggressive. Sadly we had some contact and I was pushed into the wall, damaging my suspension and giving me a slow puncture, so we couldn't finish. While it maybe hasn't been the season we wanted, the team worked really hard throughout to find solutions and I'm so thankful for their efforts and happy with my performances."
Source: https://www.nissan.co.za/